Biden & Democrats in Congress
Want Their: "Build Back, Better"
(Now!)
Plan To Pass. What's in it? Well:
-$1.7 Trillion For Our Infrastructure
-$100 Billion For Immigration Fixes
-'Enhanced Child Tax Credit' +$600
-Childcare for working poor families
-Universal Pre-K/Preschool kids 3-4
-Climate investment for clean energy
-An extra $600 for ACA most needed
-Affordable Housing/1st time buyers
-Big taxes for corporations making $
What's not in the bill? Well this
stinks But: Family, And Medical
leave, Medicade dental & vision
were taken out, along with free
"Community College". And, not
One Fucking Republican 'Voted'
(Obstructionists)
for ANY of it. Voters, they don't
fucking care about you. So stop
voting for them. Speaking of an
asshole Not "Getting It", we get
Mitten's Romney 'playing' Dress
Up Games, Instead Of Enacting
actual Policies. And not For Any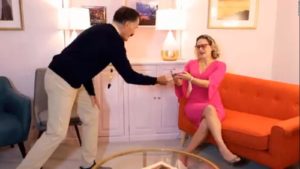 (<-Jagweed!)
thing; but he's No Ted Lasso At
All. He is, "Rupert", the "Villain"
NOTE: Trial, for Racist Violent Hateful White
Supremacists under way and the judge's not
having any bullshit. Gooooooood. About time
Have A "Safe" Day!