Sitting 'Congressional Republicans'
are directly linked to the events of
(Ya fucked!)
Jan 6th. From: Planning, Meeting,
funding, Offering Pardons & More
Saying it right now: they, are, ALL
FUCKED. There is No "Going Back"
from this. In fact, in this big bomb
shell insider report; these traitors:
-R-Paul Gosar AZ
-R-Lauren Boebert CO
-R-Mo Brooks AL
-R-Andy Biggs AZ
-R-Madison Cawthorn NC
-R-Louie Gohmert TX
-R-Marjorie Taylor Greene GA
-R-Mark Meadows COS
Are directly Linked/responsible &
The Names'll Grow rather quickly
For you see, when you directly all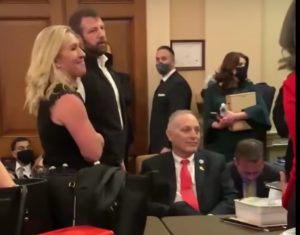 (Oddly clam)
participate/help the Terrorists on
Jan 6th; you're ONE of them now
And, There will Be LOTS more of
their names comin out daily folks
People are talkin' to All save their
own asses/lives. And they all Got
receipts (cell records, texts, vm's
& much more) Ooooooooooooops
There's no legal defense for "Uhh
Sorry I Tried To Overthrow all Of
(Tick, tock!)
Democracy/our country, my bad"
Legendary "consequences" await
NOTE: R-Governor Ron DeathSantis Is Doing His
Usual Ghoul Moves. He offered Cops from NYC $
to go to FLA to avoid vaccination. Gross monster
Have A "Safe" Day!