What If I told you that two racist
hateful, Older, Dying White guys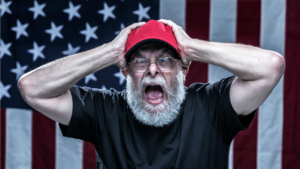 (Can't, order, tickets!)
were Having Trouble selling tix's
to their "Fascist Assholes" Tour?
Doesn't "Surprise" anyone really
am I right? Their lack of Policies
For Voters & Racist Hate All Just
alienated, Most All R's From This
society. So What if I told ya that
a man knowingly went to the DC
Capitol on Jan 6th, helped Break
(<-Terrorists)
into it And Only got 8 Months in
jail? WTF?!?! Everyone involved
in tryin' to overthrow our nation
Should Be 'UNDER' The Jail. The
others who "committed" Acts Of
Violence Will Be Worse, But any
One Who Did this/Approved Has
to face More Severe Punishment
Or else, it Happens Again & This
(<-Farris Nunn)
Time, We Don't Stop Em. We've
Had ENOUGH. 'Speaking' Of The
apathy of Our World, a little Girl
has THE saddest reaction to gun
violence I've ever seen in my life
"Uhhhhhh, it Was My 2nd Shooting,
so I uh was kinda prepared; cause I
always expect something to happen"
If we do Nothing, eject me from
this planet. I'm so Fucking done
NOTE: HR 1 Voting Right Must Be Upheld Even
If It Means 'Ending'/'Carving Out' Just For This
the Filibuster. Our Rights aren't debatable here
Have A "Safe" Day!