As COVID has killed over 195,147 citizens
& Republicans/Trump does Nothing, There
(<-Fidots)
is More Lunacy Happening over the Pond
Boris Johnson's now trying to "undo" the
horrors of Brexit with little luck. And now
idiot head Wants to "Break" international
law. Da fuck?!?! Good luck Britian, you're
gonna Need it. We got our own idiot here
in America, & Have 55 Days Until Orange
Asshole is Launched Out of OUR House &
directly into Jail. In A new Tape of Trump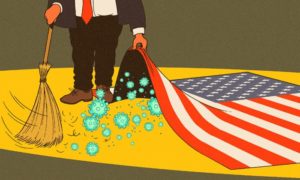 (Nope)
admits He KNEW COVID was deadly and
Wanted To "Downplay it". Ahem, NO, He
LIED & just let People fucking Die. Livid!
The entire Country Isn't havin it either &
his polls are Lower than a bottomless pit
NOTE: Police Quit Over Racist Hate And It's About
TIME. Hero's. This Murdering Racist Hate Will NOT
STAND. This Is 2020. We Will Not Tolerate it again
NOTE II: Republican Tom Tillis Staffer tells Cancer
Survivor to "Figure It Out" How to Get Chemo help
Have a "safe" day!