The RNC Day Two "Looked" A lot like a 4th
rate Comedy Club With Screech Headlining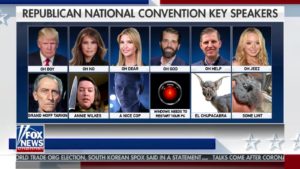 (About Right)
Ohhhhh boy it's not good at all. If there was
a new lower Bottom to the barrel this would
be it. And my guess is just gets Worse from
there. Besides, they all Already Violated The
Hatch Act With 'Their' Political Bullshit. And,
while the World burns, they do nothing. It's
pure evil. Not the Kind Of Evil like A 17 year
Old, Bringing An AR-15 To Murder People In
(Racist killer)
cold Blood. This Violent Evil, Must End Now!
And how does a kid get that AR-15?!?! Fuck
NOTE: NBA Teams Correctly Decide Their "Labor" Will
Not Be Used During These Racially Horrific Times. Nice
STORMS: These storms Bearing down on LA, & TX are
harsh. Be safe. Be strong. prepare, this stuff's no Joke
Have a "safe" day!
[give_form id="26992″]