As COVID still Rages on causing new crazy
problems in Society, the White House does
(<-Dope)
NOTHING. Not, one, single, Fucking, Thing
Our Country is on fire & he/all Republicans
don't Care. They, Simply Just let elemental
unemployment insurance of $600 extra for
each week, lapse. And don't CARE. And the
polls ALL show it. Voters know they do not
care & Now, Most all Voters Don't Want R's
in office. Ooooooops. And Speaking of Shit
hitting the Fan, the NY AG, Letitia James is
going to legally "Dissolve" The NRA. Ooops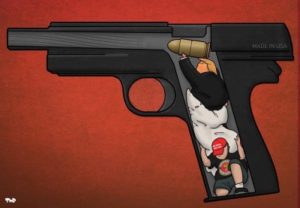 (We Know)
She called out their proven history of fraud,
abuse, Financial Crimes, & Tax evasion. Ha!
Karma is Rolling Across this fine Country, &
she is enacting a sense of common purpose
mixed With Justice. And, it's So About Time
NOTE: The Beirut Explosion, Makes Everyone's
hearts hurt. 135 good citizens are dead and in
That Count, Is One American. Horrific Accident
Have a "safe" day!