It's damn good to be back! Sorry I was gone
for a week. Have Several Very Important big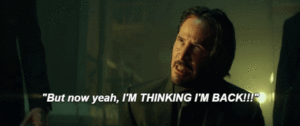 (Boom!)
projects that needed my full attention. But,
now We're rocking and rolling again! As we
still daily Deal With this Horrific 'Pandemic'
President "Orange Asshole" Decided to Just
shit his pants on national TV in an Insanely
AWFUL Interview, That "Humiliated" him so
badly he will never recover. Karma's comin
fast & She Brought Receipts. And All of This
comes AFTER Cy Vance Jr., Is Investigating
One Orange, Fat Trump, And All The Trump
("WTF?!?! No!")
Organization For "Insurance & Bank Fraud"
Ooooooops. And as EVERY Republican now
plays with sufferin American's lives by just
DENYING a Vote, for Unemployment Aid it
is clear. They don't fucking care. Never did
Vote every Single one of them out of office
NOTE: Historic Upset Of legacy Dem, Is Really Just
The Beginning of the R's Election 'Problems'. Ha Ha
NOTE II: The Orange Toddler's group wants to now
Violate The Hatch Act, AGAIN. It is Also very illegal
Have a "safe" day!