As COVID Spikes in States that Opened way
too early; the rest of a nation looks on them
(<-Frauds)
shaking Our Heads. They 'Ignored' Medical
facts, science & reality. And so, states like
Florida (My daughter Is now There in Leon
county at FSU where A "Club owner" called
the Brickhouse is 'open' and spreading this
Virus like wildfire) Arizona, Texas, Cali and
more. WTF?!?!?! All of this is Happening as
Bill Barr has 'Used' the DOJ As his personal
Partisan Legal Team to Defend Criminals &
punish political opponents. Two people that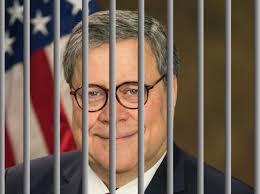 (<-Crook)
are two actin DOJ officials testified against
Bill Barr Today about Criminal partisan shit
or "knee capping" justice for 'friends'. This,
is as SERIOUS asit gets. Barr's sunk legally
speaking. And While This is Happening, The
entire Republican Party is 'Sinking' with em
Orange Idiot is "Sinking" Into the Darkness
NOTE: 2 Secret Service At Rumps Tulsa Hate Rally
Have Tested Positive For COVID. Oooooooooooops
Have a "safe" day!
[give_form id="26992″]