Is the President of the United States. Let that
Really Sink In. The Orange Anus, Decided His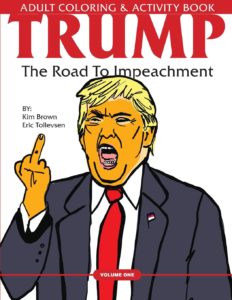 (We Know)
Shitter storm In Smearing Dems as terrorists,
pictures of dead body's, Misspelling Insults &
basically Realizing witnesses are coming Now
Oooooooooooooops. There Are 23 of Them up
For, Re-Election. You Have Esper/Pompeo All
won't state any "imminent" Iran attack threat
Which means Even the State Department was
unaware of ANY threat, Ooooooops. Holy Shit
they just lie, then lie again, then lie about the
(Yup)
lies. This is already "Horrific"; it will get worse
by the day as they keep lyin'/obstructing folks
but there's a light at the end of the tunnel. Let
us hope it's not a train barrelin' down on us all
NOTE: Russians Hacked Ukraine Gas Company Burisma. Oh
Yes, They Never Stopped Hacking/Meddling. This, is Serious
And Congress/Clandestine Agencies must Act Swiftly on This
NOTE II: Astro's GM, Manager Fired After Cheating. They all
Should have Been Punished Even Harsher. The Integrity of a
Game Is At Stake. They "WON" a Championship By Cheating
Have a day!