As Consequences keep on collecting the Trump
Criminals, The Latest Is Duncan Hunter. And It
(<-Criminal POS)
couldn't happen To A BIGGER Immoral Fucker
While Trump /Pompeo/FOX News Want A War
with Iran, our base was just attacked. A failed
attempt to distract from his Impeachment trial
Not only is not working whatsoever, the voters
are Turning on Him Badly. Especially All of the
independents/women. While Mitch Turtle Tries
"Partisan BS"/23 Republican Senators Are in A
fight for their Political lives that they are losing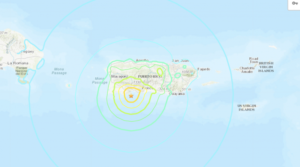 (Oh No!)
And While Our Country deals with Such lunacy,
Puerto Rico's now Dealing With Harsh Crippling
Earthquakes & Australia Is Reeling From Brush
Fires that Were out of Control. Keep them all in
your thoughts. The world is literally on fire now
Time to put on your asbestos pants cool people
NOTE: Nikki Haley Is Doing Her Best, "I Can Out Douche Any
Thing Trump Does" Impression, And Was Correctly Slammed
Have a day!
[give_form id="26992″]