Today, on December 18th, the 45 President of
United States Was Impeached. History Is Now
(Forever)
watching what will happen next in the Senate
History, Will Be VERY Kind To The Democrats
who Conducted themselves Soberly, following
the facts & the rules of the House. And history
will "Remember" the Republicans as Just loud,
rule breaking Partisan Cowards, All allied with
A Criminal King, Over Country, & Constitution
There is NO Recovery for Their Party now and
it's ALL Self-inflicted. Everytime they speak, it
is ANOTHER, "Political Ad" AGAINST Them, By
every opponent. When your Defense to crimes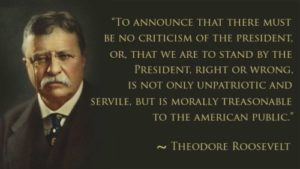 (Truth!)
are "Hey, I didn't see nuthing shut up!", that's
an abdication of honor, oath & fitness to office
No defense was made & they knew it happend
In their blind Servitude to a racist criminal Kid
they forgot it's our fucking Country. And that's
unacceptable. SO, I GIVE you Teddy Roosevelt
"For anyone to announce there must be no criticism of the
President….is morally Treasonable to the American Public"
NOTE: Our Sound Economic Recovery Has Been Squandered
On tax cuts & deregulation according To Harvard Economists
Have a day!