That's it. Donald J. Trump is going to be
Impeached. Nancy Pelosi just made that
("One more ?")
clear today. We don't know yet if he will
be "Removed". That will be up to the US
Senate. And With 23 of Those R's All up
for Re-election, they're Fucked with any
Vote They Cast. As Mitt, & Lindsay Both,
are 'Breaking' With Trumpites about the
"debunked" Ukraine "Meddling" Russian
Propaganda (Barr Was Just Told By The
IG as well); Pelosi Shut down a reporter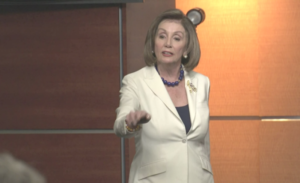 (Done!)
who tried Partisan Dumb-fuckery today
Like A BOSS. The Douche from Sinclair
asked "Do you hate Trump?!". She said:
"I don't hate Anyone. I was Raised in a way that is
a heart full of love & always pray for the president
And I still pray for The President. I pray for (Him)
all the time. So don't mess with me when it comes
to words like that"(then steely walked out to work)
*MIC DROP*
She & ALL leaders in Office aren't fuckin'
around here. It is Deadly serious. And in
Republicans not remotely graspin' this &
citizens all moving to Impeach & remove
GOP'er all find Themselves in some deep,
dark, cold waters, sinking fast. Oooooops
Have a day!