As the walls are Crumbling all around Republicans,
Trump, Rudy, Pence, Barr, Mulvaney, Pompeo and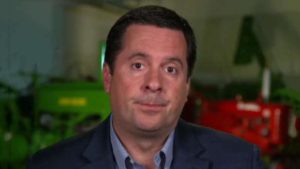 (<-Criminal)
more….Devin Nunes is now in DIRE legal Jeopardy
They have Extensive Phone Records showing us all
that both HE & Rudy were in constant contact with
Lev Parnas about the Biden Dirt. They're, All going
down. Every single one of them. A Damning report
detailing the Impeachment findings up to date just
landed loudly. And so Now, the 'Entire' Republican
Non-Defense is the Costanza "Just remember….it's

(Oh shit!)
not a lie; If you believe it" Bullshit. This is Going to
get historically insanely worse, Where Republicans
are ending their Careers live on TV with fallacies, a
'slew' Of Russian Propaganda, Or FOX Conspiracies
unfit for a grade school playground. Democrats will
walk down every lie/fallacy with facts and correctly
state these Republicans are all violating their Oaths
(Yes, it is)
Of Office. This'll Cost Jobs, Lives, Freedom & much
more. The R's Here are Done. Tick, tock, tick, tock
NOTE: Kamala Harris Has Ended Her Democratic Presidential
Race. And Yet Mike "Alf Landon 2.0" stays In the race. What
A Sad Day. Really Liked her and I hope she continues service
NOTE II: Mitt Romney Clearly States any 'Conspiracy Bullshit'
In the Senate, will not Fly. Russia "Attacked Us", not Ukraine
Have a day!