After yet another day of earth shaking
testimony from people Directly on the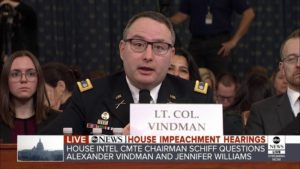 (<-Hero)
CALL, Trumpy/ Pence/ Pompeo/ Rudy/
Mulvaney are ALL in The "Deepest" of
troubles. Vindman, Was the Strongest
witness of the lot(and they were all so
devastating). He "understood" the call
was "demand". Ooooooooooo that has
got Some Stank On It. And so Jennifer
Williams was also a witness today, she
was equally up to the task. And all the
(Truth)
Republicans Could Do, "SMEAR" Them
or try. It didn't Work. In fact attacking
them Only made things Worse. In fact:
"It's Lieutenant Colonel Vindman, please"
This Was, After A disgustingly ILLEGAL
stunt To Again Out the Whistle-Blower
The core defense is Ad Hominem, then
smear, then conspiracy lies for the end
Not only is That insane, it is now Doing
(We fucked)
the exact opposite of it's Intention, and
to that I say, "Please keep Digging your
graves". Well, it saves all of us the time
NOTE: ANOTHER Racist Hate Murder Spree Was
Thwarted. She was 16, Holy shit, this must END
Have a day!
[give_form id="26992″]