Happy Veterans Day to Everyone! It's a day to
reflect, Honor, Thank & use Our Voices to help
(Yes Indeed!)
those Vets who all need our Help. So, do more
than Just "Thanks". Hire, Donate & Help them
at every Turn. They gave their best for us, and
they Deserve Nothing but the Best From us All
Speaking of more "Boooing" Don Jr. Got Yelled
of The Stage, in His "Super Douche Book Tour"
(And, it was from the Harder Racist right here)
Ha, ha, ha, ha. Reap what you sow ya immoral
frauds. And while That is Happening to little JR
(Good luck!)
pops just went from a mixture of Cheers/Boos
in the deepsouth to chants of "Lock Him Up!!!"
in NYC Vets Days Parade. He was also Greeted
With Make-shift Impeach/Dump Trumps Signs
in high-rise windows. Oooooooof. Gut punches
galore. And it's only goin to get worse. Yep, ya
read that correctly. The 2 Guys who are Rudy's
Russian Goons Are Both Flipping Faster Than a
Coked-Up Gymnasts Floor Routine. Lev Parnas,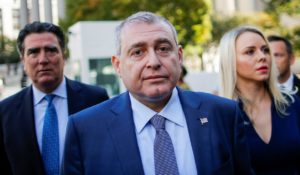 ("He fucked")
& Furman are both stating the crimes that they
committed. HOLY SHIT!!! It is all over now. Ha!
NOTE: Russian Tory Donators 'Gave' to The Tory's And
At Least 9 Of Them are Oligarchs. Illegal. Ooooooooops
NOTE II: Now Even 'Republicans' Are Breaking, On The
Facts of the Illegal Ukraine Extortion/Bribery. Ha ha ha
Have a day!
[give_form id="26992″]