Trump is hurt. He's in deep shit. This Is the End
His jabbering lunacy press conferences where It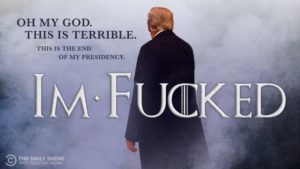 (Yes, you are)
was Crystal clear he knows It's over. He avoided
questions, favoring a Slew of lies, Vague Lunatic
Conspiracies & Attacked Biden All just To Ignore
this Inevitable Impeachment for his overt crimes
This Will Go Very Quickly. Orange Fuckstick, Just
openly sent out a "version" of his phonecall With
The Ukraine President & it's Even Worse For Him
than you can possible imagine. There Is nowhere
2 go from here. There's nowhere to run, nowhere
(WTF?!?!?)
to hide now. From a string of lies, to bein' boldly
corrected in realtime by the Ukrainian President,
to Bizarre World-Salad Gibberish; He, is Undone
The DOJ, Barr, Mulvaney, Pence & More, Will All
be going down for their illegal actions in trying to
hide/Stall the Whistler Blower report to Congress
D-Mike Quigley read the Report already. His said
it is "Detailed", "Very, very well done" And that it
("It's over!")
"reinforces the concerns of what we already know"
In the end, Trump threw Pence under the bus too
NOTE: BJ, just "Mocked" The Death Of Jo Cox, Who Was
Murdered by a ProBrexit Racist. Do a no confidence Vote
Now! Remove that immoral hateful pile of disgusting shit
Have a day!
[give_form id="26992″]