As the orange anus shits himself to sleep nightly
we see he's still At the Racist lunacy hate by just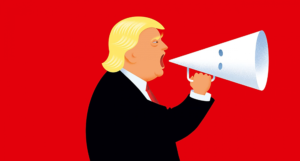 (We Know)
saying to The Guy He Racially Verbally Attacked
who has his fucking home broken into late night
"Too Bad!" mocking it. This is disgusting shit ya
wouldn't accept from your troubled teen. In fact
That Is Stuff "NO RATIONAL SOCIETY" Would At
all tolerate from it's Citizens…let alone President
This country needs to send a crystal clear strong
message In this Next Election that racist hate, &
violent abuse Isn't Tolerated in our Country now
As the Entire Republican Party, Is 'Imploding' At
(We Know)
an Alarming Rate (R's quitting) it's leaving us In
a worse Place. We, as a Country, Should have at
LEAST 3 Political Parties, If Not FIVE. Let's Do It!
NOTE: Violent MAGA supporter Punches an older anti-Trump
Protester Man, In Face! Then, Gets Quickly Arrested by Cops
NOTE II: Democrat Thomas Cullerton, Out Of Villa Park, Has
Been 'Indicted' on 39 Counts of 'Embezzlement' From Unions
Have a weekend!