As we already knew was coming, now Joe
Biden Is "Running" for POTUS. He is about
as "Establishment" as you get. He'll either
have to run on progressive policies & fuck
over progressive voters once in office and
is very "likely 2 win". Joe Right now is the
Entire Establishment "Pushing Back", And
that means Middle of Road R Trumpers as
well (the McCains). See, they already won
with Trumps Tax Cuts, but they hate all of
his other Shit (Crimes, Lunacy, racist hate
(<-Bring It!)
& instability). But They Sure LOVED Those
Tax cuts that fucked 98% of America hard
Watch Joe closely. If He 'Sides' with Pelosi
Policies, It Means Centerist Establishment
hack guy with no hope & busines' as usual
If He Offers 'Actual' Working "Progressive"
Ideas, Wins, AND, Very Seriously TRIES to
Implement Them, As He Is VERY 'Capable'
Of Doing, THAT, is Great! Those Are 3 BIG
"IF" Steps, he Hasn't Sold Me On quite yet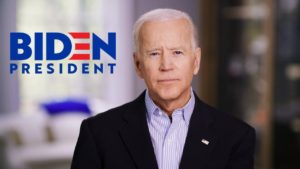 (Stop Hate!)
He Should have Run in 2016. Now against
Trump, if he Sticks to popular polices he'd
CRUSH the Orange one. And I mean badly
How many Democrats are in the race now?
8 billion or just 179 million I can't member
NOTE: Murdered Illinois Boy's "Body" Found….And The
Parents are Charged with The Crime. They Forced him
into A Cold Shower Before They Beat Him To Death. It
Should Be Said, They Should Be JAILED for the rest of
Their Lives. The Country Heart Is Broken with this evil
Have a day!