The entire Republican today, or what's left
of these immoral lying partisan Sociopaths
(We Know)
is only about "Hate". Most of the Far Right
Wing "Propaganda", is Now Echoing White
Supremacist "lies" about Notre Dame's fire
They are intentionally lying Saying it was a
likely a "Muslim" Act. NO, the "Cause" of it
was an "Accident" According to Local Paris
leaders. You knows It's so Disgustingly vile
that even Shep Smith has to "cut off" all of
these soulless Racist lying fucks for spewin'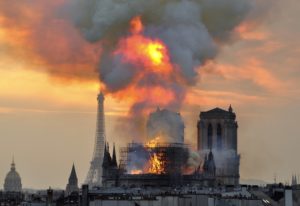 (Rebuild)
such hate. They Offer no Policies, no Hope,
no Solutions, And NOTHING The American
people Want. Yet, Roy "Molester" Moore Is
Running AGAIN. Hey Alabama, You're Why
we can't have nice things. This election will
come Down To "POLICIES" Period. It's real
solutions to REAL "Problems". As Racist ass
Trump keeps attacking Ilhan Omar, it is so
having The "EXACT Opposite Effect" Of His
intended hate. Time is Running Out on This
(No Shit!)
Orange Douche. He is very panicked about
the Mueller Report being Released. Oooops
NOTE: Bernie Sanders Town Hall Earthquake That Shook The
Entire World. His "Policy Positions" are "WILDLY" Popular And
They Will Get More Popular Daily. Enough To Where Brett the
Pool Boy Baier got Audience Reactions That Leave All R's who
Are Running, in Terrible Policy Position Trouble Oooooooooops
Have a day!