I'm Pregnant! April Fools. I'm Just Really
really really Fat. But Seriously, only 29%
(<-The 29%)
of all American's think that trump Didn't
"Obstruct". Let THAT "Sink" In. We have
19-29% of People in The USA who're SO
fucking crazy. Or as Orange Anus calls it,
"his base". And as His Legal issues in the
Southern District of NYC are about to Hit
And as that Happens, we have some very
Serious "Security Breaches" in The White
House. Well, NO SHIT!?! They Have since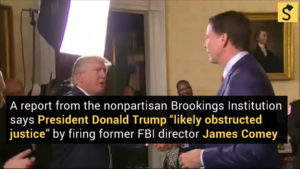 (We know)
day one! No Matter, This is A Cautionary
tale as old as Timeitself. It's like a driver
not checking their Blind Spot…if the spot
was 8 billion feet wide. Oooooooooooops
NOTE: TOMORROW CHICAGO VOTES!!!!! Make sure
You Vote, Vote, Vote. "Educate Yourself" On Policies
For Every Candidate. Then, You Know What You Get
Have a day!