Republican Cry Baby & Guy who Doesn't
understand "What" Twitter Is Devin "I'm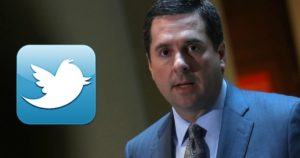 (<-Dumbass!)
Not Smart" Nunes Just Sued Twitter. Ha
Ha Ha Ha Ha Ha Ha Ha! What, A Maroon!
He's suing Over A "Parody Account" & he
is Claiming, incorrectly he is being biased
Against "Conservatives". Um, Orange Ass
is Spewing White Supremacist Shit, Daily
as are Tons of Your immoral Assholes, So
that won't fly. It Will Get Thrown out Fast
Speaking of "Thrown out Fast" the hate &
Shame Of Orange Fuckstick Is Increasing
(Immoral Asshole)
at A most Rapid Rate. He insulted McCain
AGAIN…..and is being "hammered" by all
of Twitter. He better find a safe space fast
NOTE: Robert, "I Fuck Hookers" Kraft Gets An Insane
Offer From Florida Prosecutors Of, "Admit You Are So
Guilty & We'll Drop The Charges". WTF?!?!?! NO WAY
Jeeeeeezus. This Is lunacy. There are two Systems of
Law. One For The Rich & One for the Rest Of Us Shits
THIS Is Disgustingly Evil. Do the Crime, doe the Time
Tomorrow: Deutshe Bank loaned Trump Billions After
He LIED About Wealth. That Is Called Fraud. Ooooops
Have a day!
[give_form id="26992″]