As the whiner & thief keeps complaining
About "Presidential Harassment". Ahem,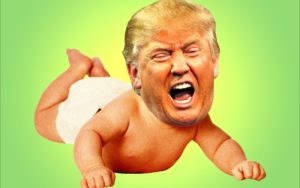 (Criminal crybaby)
how About American Citizens Claim The
same from him?!?! It's called the rule of
law. While Ex-White House lawyer Ty "I
am Related to The Older Racist Baseball
player guy" Cobb explains Mueller is the
"hero" in this story; Democrats are all in
the "Investigation Beginning" Phases. It
signals this Will Not Ever be Going Away
("I say, I say")
And, in many ways also Clearly Shows it
is Just getting "Started". While all this is
driving a nut nuttier, we have GOP'er all
Turning, On Trump's Bullshit Emergency
NOTE: Now, we know "WHY" Michael Jackson's place
Was Called "Neverland". Never 'Talk' About It. Never
Testify Against Him. Never, shower Alone. And Never
forget the time ya were fucked in ur asshole as A Kid
Have a day!