In Today's Episode of "Trumpy Melts Down On
Twitter", his Orangeness Decided to spew even
(Blurf!)
more bullshit lies Hanging himself worse. Fine
by me. It's a clear Case of "witness tampering"
You know, the shit that really pissed off Robert
Mueller When MANAFORT did it?!?!?! Yeah well
as that last few Grains of Sand fall through this
hour Glass We Have for Trump & Crew the rest
of the "World Moves On". In Georgia, The Place
where stacey abrams lost they have a secretary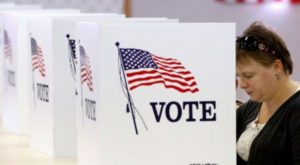 (Vote Georgia!)
Of State run Off election tomorrow the 4th. Go
out & VOTE! So, here is your polling place info
NOTE: Our 41st POTUS, George H.W. Bush Died On
Friday At 94. He Was A WWII 'Vet', CIA Director and
Was a 'decent man'. At least In Today's Terms. I did
Agree With His Policy To 'Raise Taxes' When IT WAS
Not Popular (& Correct Economic Policy, At the time)
My Only Ernest Issue, Was His "Racist" Willie Horton
Lee Atwater, Southern Strategy 'ads'. Immoral Trash
I'll Never "Forgive", That Evil Choice, Nor Will History
NOTE II: Paris takes to The Street To Riot. You know
Here, I never espouse Political violence. Ever. This IS
Another Example. Their Anger/Rage Is Founded, BUT
Rioting Solves Nothing. It's "Anarchy" With No Actual
Political 'Solution'. Dumb. If You're Upset With All The
"Elites", VOTE IN, Policies You Want. Not More of The
Same. Know Exactly What You Are Voting For People!
Have a day!