(Rolls Eyes) Yes, I'm Punny As Hell and It's
HI-larious. Yes, the Racist White Nazi party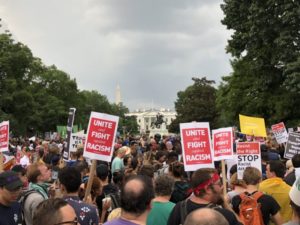 (Counter Protestors)
in DC was a flop, but don't for 1 second you
thinks it is Over. The Racists in Our Country
are ALL Terrified Of Publicly Being shown or
Called Out Now. They're lurking On-line And
in the Shadows like never before. See, when
they step into the light, they lose Jobs, lives,
& Business. They Don't Want That. Well Our
entire Society of Rational people Do. And we
will Fight For This Country. We defeated this
Hateful Shit Before, &, Always Have Through
out history. It's no Different This Time either
NOTE: The EU & UK Are "Blocking" Trumps Iran
Sanctions. Seems the entire world's now against
NOTE II: Florida Man Loses "Stand your ground"
Case And Charged In Manslaughter Case. Boom!
Have a day!