With Tiny Hands Tweeting In all caps he
is surely As Unstable as A Table with two
(Child Vomit)
legs. But the Entire world knows what he
just did last Week with Putin. It's not lost
on anyone. In a Debate, racist Dixie lovin
Confederate "Flag Supporting" Republican
Corey Stewart got laughed out of a Room
during a Debate. He Tried To "Claim" that
Trump was, "Standing up to the Russians"
That's when the Ex – VP Candidate Timmy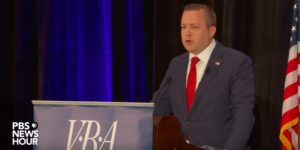 (<-GTFOH)
Kane also Laughed. These People are ALL
utterly detached from Reality. All of them
NOTE: Sasha Cohen, Just Elevated His Satire
And Hit, A New Standard. It's Simply Perfect
Watch The Clip, & I'd Say 'Republicans' Have
Hit A New Low. But The Days Not Over…..Yet
NOTE II: Acid Attack on Toddler They Should
Be thrown In Jail Forever All Utter Sociopaths
UPDATE: Alex Jones Just Broke The Law. Ha!
Of COURSE He Did. He, Just 'Threatened' Bob
Mueller With His Finger Pointed As A Gun?!?!?
Have a day!