Hope your 4th Was Awesome and you lit
no short wicks or are missing any fingers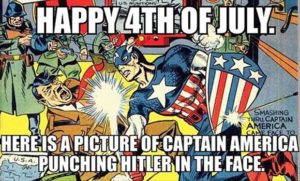 (Yeah Baby!)
It was such Great Fun Going To the Cubs
game & saw some fireworks. But we also
lost someone In our Family suddenly in a
tragic Sudden Event. It's so very Sad and
now Our 'Family' Must All Stay That Much
Closer, Hold Each Other Tighter And Must
deal with this sadness every day. Speakin
of Terrible Shit Happening, our Entire Big
Country Is sick and Tired of Trump/All Of
("I'm gone!")
his Insane Lying Corrupt Minions. Scotty
Pruitt is GONE. He's also going to have a
bunch of felonies pending. What was this
amazing Moment where this corrupt lyin
asshole was confronted Civilly by a voter
pointing out His ignorance, Hate and lies
Trump & crew Are ALL so fucked. Voters
aren't buying their utter bullshit lies they
are Selling & Fed Up. Tick tock, tick tock!
(No More!)
Citizens lives aren't some Game to just be
fucked Around With. This shit Won't Stand
NOTE: Alan Dershowitz, Simply 'Being' Publicly
Shamed For Loathsome Views Isn't A Violation
Of His "Rights", Or 'Hurt' His Career. When You
Say Horrible Shit Private Citizens Choosing Not
2 Associate With Your Vile Assholeishness Isn't
State-Sanctioned, American Apartheid. It's Just
Other Human beings who Think You're Vile Shit
NOTE II: Nazi Racist GOP'er, Oh How Expected
RIP: Ed Schultz Passed Away At 64 & was a big
Progressive Voice. More, Are Coming Every Day
Have a day!