Orange Anus…..is about to engage
North Korea in a summit that may
(They WISH)
or may not ever Happen. If it does,
he claimed "I Don't think I have to
prepare Very Much. It's Just about
Attitude. It's About, Willingness To
get things done". Ahh yes member
that big Chemistry test you did not
"study" for goin' great?!?! Yeah me
neither. If 7 that's still an IF it does
happen; we can all look Forward to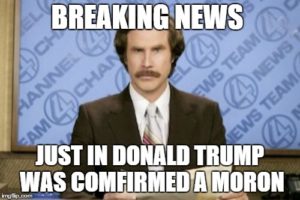 (We know)
a puzzled Cheeto dusted dumbfuck
claiming, "Who knew denuclearizin'
another hostel Nation, Could be So
hard?!?!?". He is an insane Buffoon
NOTE : Manafort, Will Likely Die In Jail
Now After Being 'Caught' With Witness
Tampering. He Contacted 2 "Witnesses"
& Asked Them, To "Perjure themselves"
Oooooooops. The Judge, Rules On June
15th After Mueller's Team, Motioned To
Yank Bail. This Isn't A Game & Get Way
Worse for Trump And Crew By The Day
NOTE II : The Lies Are Takin' Their Toll
On Trump, & His Lying Troll Minions For
A While Now. It, Turns Out, If You Keep
Keep Crying "Wolf!!", When An Actual 1
Shows Up, No One Listens. Boy, I JUST
Wish, There Was A Story About This All
Have a day!