Supreme Court decided ending DACA is Not
an option for Trump shits. Oooooooooooops
(Yes)
Seems it's not remotely legal. And today the
Staute of Liberty, puff out her chest, and she
counter Punches Thanks in Large Part to The
"Judiciary" Following The laws of Our land. It
is AWESOME. This Fight Has Just Begun And
The "Dreamers" are Safe for Now. But this is
a fight For Them, legally. All this does is kick
(Step Back!)
the can Down the Road until after November
We need a full Fix & a fair one. Flip Congress
School Shooting Trump Believes…
That he would have "Run in there" even if he
"Didn't have A Weapon". Ha Ha Ha Ha Ha ha!
(Genius!)
What a lyin pile of douche. Didn't bone spurs
get 5 deferments from Nam? Yes, yes he did
Didn't he cower from a Bald Eagle?!? Yes, he
did. Didn't he Jump & Try To Hide From right
behind his podium?!? YES. First, he can't run
Into Anything. That, Includes McDonald's, Or
KFC. He could Waddle Or Bully his way into a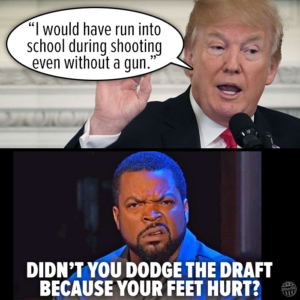 (No Shit!)
photo shoot, but little else. Mueller is coming
for the Orange Anus. He is gonna get "worse"
NOTE: BIG Special Election In Arizona Tomorrow
Flip This District, You Can Do Arizona, VOTE!!!!!!!
My Pick Would Be Progressive Brianna Westbrook
NOTE II: Trump "Used" The Shooting Victims Pics
In The Hospital for Campaign Material. Disgusting
Have a day!