Alabama Spoke Last Night. While Democratic
candidate Doug Jones won it was only by 2%
(A Win!)
Yes ya read the correctly. It was 58.4% for a
molesting Bigot Twice Fired Asshole Clown to
50%(22,000 vote difference is 2%) for Jones
Make no mistake while a good thing how was
it EVEN that Close? Ignorance & Hate. That is
how. Now Republicans Will All Pretend That a
single Person (Bannon) is too Blame Trying to
ignore exactly where their party is at today. It
is a lie, since They are ALL Attached by Trump
(FU and the horse…)
and none have ever Just Stood Up to Separate
themselves From All That Hate/ignorant Policy
that solely helps the top 1%. They all vote in a
lock step Fashion, They All Support Trump and
they are All cowards solely for the top 1%. The
thing here is Something Happened last night &
the entire World Saw it. Times are changing so
will The Republican Party change with them?!?
Nope, They will go the Way of the Whigs and It
means they are Now Set Adrift into a Darkness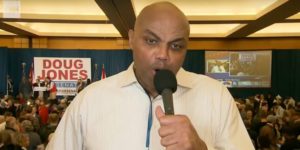 ("It's On!")
My two Favorite Moments from last night were
Charles Barkley clearly stating "Hey Dems you
better follow through on Your Policy promises!"
The Second the MAIN reason for Jones winning
was a father actually "felt" the sting of his hate
causing Outrage. THAT is the key. The more we
see Citizens Voting For Their OWN interests and
against those who Hate Them the better we will
be. I can't Believe I Have to Fucking type that in
2017. Wow, We Are ALWAYS, Stronger Together
NOTE: Do Not ALLOW, The FCC To "Take" Away
Net Neutrality It IS The "Life Blood" Of Freedom
Contact All Your Reps In Favor Of Net Neutrality
This Will Be Pure Evil With 'Propaganda' Content
For The Highest Bidders 'Choking' All The Others
Have a day!