While Republicans were Busy passing
Their Economic Night Mare Sociopath
(He's done!)
Tax Cuts for a top 1%, the rest of the
free world all Shook Our Heads in this
collective side to side saying "Here we
Go AGAIN". This helps no one and it'll
kill The Economy in 2-4 years causing
ANOTHER Market Crash/Recession or
depression. They Always do. It simply
happened In 1929 (tax cuts), in 1987,
In 2007, And Now In 2020 /2021. ALL
under Republican leadership. Geeeeee
that must be some Odd Co-Winkydink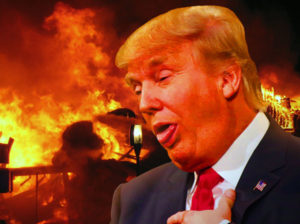 (POS In Flames)
And 'Why' This Evil is The ONLY Thing
they passed by 51-49 vote the POTUS
Orange Anus is Undone. It's over, it is
done. He will Not Be President and he
will likely Be Jailed For The Remainder
of his odious Fat life. Down they all go
And Trump Endorsed Roy Moore, Ohh
Felons of feather always stick together
NOTE: Democrat John Conyer's Sexual
Assault Charges as More Victims Come
Forward. It Will Out. The Truth Always
Does. And He Will Be Yet Another Idiot
Have a day!