With Mueller's "investigation" seemingly
rounding The Home Stretch, we get the
(Buckle Up!)
biggest tell. Paul Manafort was actually
listened in on With A Warrant. You can
expect An indictment of him And More
Trump's usin' RNC Funds for His Legal
team. AKA-burning your donors money
who are a collection of Suckers & idiots
BUT, Spicer's Bit was Unfunny And Not
worthy of Any Attention. He Took A job
to LIE to The American People Daily, &
if you're a pro-wrestler, fine. We all get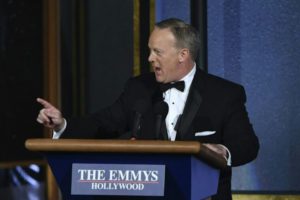 (Fraud asshole!)
it's Fake. When It's The WH Press?!?!?!
His Lies Effect All Citizens Daily. This is
not some fucking game. To reward that
with "Oh you Dickens" isn't funny. That
is the sign of the times for frauds being
lauded and winked at. It is pretty gross
NOTE : RACIST, KKK NAZI Scum, Murders
Two Innocent People, & 'Shoot' Up Others
Home I Never Post Their Names Here Just
Their Vile, Evil, Unacceptable Acts Of Hate
This, Will Not Stand. This Hate, Must Stop!
NOTE II: Mexico City 7.1 Quake, Rocks All
Around. Stay Strong, Help Others & Stand
Together Much Love To All Of You Effected
Have a day!