Pelosi and many of The Donor Dems
simply "Don't get it". The shit that is
(Ur shit campaign did)
Proven To Work from 20+ years ago
Is, OVER. Done. 'Finished'. Toast And
They Can't, Grasp it. The progressive
Sanders Wing is the Future & they're
Playing In The 80's & 90's. It's also a
big reason why they get beat some of
the times; until they place the middle
class and the poor 1st instead of their
(Pick her, lose!)
ultra Wealthy donors, they'll just lose
Hillary's New Book, Blasts Sanders, &
that means she Learned NOTHING Of
her Defeat. NOTHING. Stay With Her,
her Plutocrat Top 1% views; you lose
Move towards Bernie & Win Elections
galore. If They Don't Change It's Over
Luna-tick Tock…
If you know me Well you know one of
my Favorite Sayings Is, "Tick tock". It
(Yep)
means "No Matter if You Like it Or Not
It's Coming & Happening So Deal With
it". It's the sword of damocles hanging
over a head. It's simply time that's the
one Holding it All Up. This Party's Over
& Trump is Going Down. 'Big League' &
Now, After Trump Jr's INSANE bullshit
to the Senate Intelligence Committee it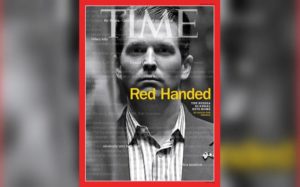 (We know)
appears he's in deep fucking trouble. It
is fairly simple. His story's now he took
That Russian Meetin because he was so
"concerned" about Hillary's health?!?!?
Ha ha ha ha ha. Kid you & your ass dad
will make fantastic Cell mates. Oh & he
also claimed he Didn't "Recall" his dads
direct involvement in crafting that Fake
response by Trump "Himself" after that
(Sure ya do!)
G20 shit show. Mueller knows this to be
a blatant lie. I use The phrase…tick tock
NOTE: Irma, Is Bearing Down, On Florida
Right "Now". My Family, Is Right In Their
Path. Baton Down, Be Safe Prepare For It
And Know, The World Is Watching Closely
Ready To Help You. United, We ALL Stand
The 'Damaging Power' Of It Simply In The
Caribbean Has Been So Bad. Stay Safe All
NOTE: Many Christian Leaders Speak Out
Against Trump And Ending DACA. Oooops
Update: The 'Racist Travel Ban' Is TOAST
Will Be A "Fast" Supreme Court Case Now
Have a day!