North Korea threatened the US, like it
does on Every Tuesday. However, this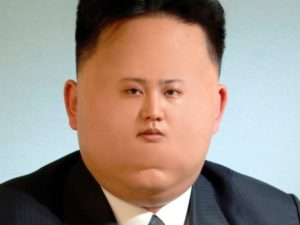 (<-Crazy Guy!)
Time N. Korea Was Testing A Nuclear
warhead. Normally When fat unstable
children Shout Stupid insane shit, you
prepare To Defuse it, End it and Move
on. You don't Ever Seek To Escalate it
if you're an adult who grasp the harsh
consequences of war or nuclear war &
knowing You Have 7-9 options (Every
thing from Brush Offs, Sanctions, and
(<-Crazy Guys!)
Negotiations, to Clandestine, or Quick
ops if things Get Serious. War or even
the "Threat" of it? Never. You don't all
Start Verbally "Pointin'" Nukes At Each
other at the Drop of a hat. Well, guess
what?!?!? Donald "Moron Ill Tempered
Baby" Trump Just Did It. He 'Thinks' it
is some kind of a fucking game here &
does Not REMOTELY Grasp The Larger
(Nucking Fut!)
Grave Severity of His Words. This isn't
a movie or a TV show. Generals are all
upset with this Tone. It's Unstable and
they aren't even all on the same fuckin
page now. Trump can't even follow his
own bullshit. Remember "I can't tell ya
what our plans are, that would be sooo
stupid". Ya, yes it Would ya lunatic ass
Normally in Tense times we have great
(Off A Cliff!)
leadership. We an insane, Lying Racist
Child Playing Dress Up As President of
the United States. These are hard days
NOTE : Trump Is Flirting With War For
ONE Reason Only: Muller Is Closing In
And He Knows His End Is Near. Simply
Put: Ex -Trump Campaign Leader Paul
Manafort Just Has His House Raided &
Searched By The FBI. They, Are All So
Going Down. Hurry Up Before Trumper
Kills Us All! Tick Tock, Tick Tock, Done!
NOTE II :  Chicken Trump Hair Balloon
Protest Inflatable Balloon Over Trumps
White House. HA HA HA HA HA HA HA!
Have a day!