And, Contusion, Injunction, Intervention,
Tribulation all describe the lunacy that is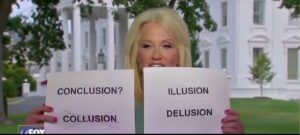 (Unhinged)
Kellyanne Conway. She Went On TV and
played "Unhinged Moron" Sesame Street
with odd Word association games simply
to "Distract" from the Shellshocking Don
Jr e-mails where he Admitted he wanted
Collusion, With The Russian Government
They aren't even holding any more Press
briefings on Camera. They Are all off the
Camera Because Trump/Aids Don't want
(Read this!)
to ever answer anything. Especially WSJ
piece that directly connects all Trumps $
Directly, To Russia. I Already Posted this
stuff before. But it Bears repeatin' and it
is not Going Away. Tick Tock, tickity tock
NOTE: Pence Spokeman, Won't Say "No!"
When Directly Asked, "Did Pence Meet W
Any Reps Of The "Russian" Government?"
NOTE II: Finally, A "Trumper", Really Did
Make The Cover of Time Magazine For All
The 'Wrong Reasons", With Don Trump Jr.
Have a day!