Jon Ossoff didn't get 51% of the vote
He got 48%. That is very good, but it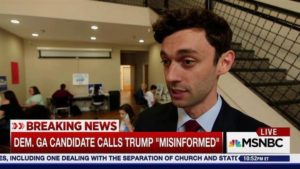 (Win in June!)
signals A "DEEP" dislike for Trumpers
If he'd Have won at 51%, it would've
been more landmark. The fact he did
not but only by 3% is the second best
outcome. Look out Republicans in '18
you are in DEEP Shit. Speaking of the
Average Racist Republican, Billy-O, Is
OUT, Gone, Fired From FOX. So Long
fuck face. One Racist, lying, Cheating,
hateful, sexual predator down….100's
(So long asshole!)
to still go! Oh and speakin' of speakin
Of Average Racist Republicans, A FLA
senator used a racial slur on the floor
We give you Frank Artiles, used a bad
Variation of The "n-word" in a Heated
Conversation At The big Tallahassee's
Governor's Club, with Democratic Sen
Audrey Gibson Of Jacksonville & Perry
Thurston Of Fort Lauderdale. He then,
used Belittling, And Obscene language
as well. Then Came the "Usual" Racist
Non-apology Of: "I'm So Sorry, that is
(<-Racist Prick)
not me, I Do Ask For Your forgiveness"
Translation: "I am still a Fucking racist
but really upset I've been caught being
one. It Hurts me". Well GOOD, so long
NOTE: So the FBI "Dossier" Appears To
Be The 1st, Of Many Direct Russian Ties
To Trump. It, Is All About Carter Page &
This Is NOT 'Going Away' Anytime Soon
Have a day!