Trump didn't learn a thing From Cain,
Cosby, Edwards, Arnold S., Or Weiner
(<-Life Support)
Same road, same results he's a moron
You Can Bet More Will Be Coming Out
daily. Why did the woman talk?!? Well
they Actually "Watched" the Debate on
Sunday Watching him say he didn't do
anything he claimed. They were pissed
2 women came forward against Trump
They are not only Compelling, but they
are identical to what he Trump himself
stated on the 05 Tape he actually does
(Fuck Sake!)
And what was Trumps response to it?!?
Usual Batshitcrazy Trump. Threaten to
sue (he won't win), lie, lie again, boldly
lie again, and Then Spew More Bullshit
His Followers are not only duped Idiots
they are dangerous in listening to a big
serial Liar & ACTING on those sick Lies
The times Bitch Slapped his suit threat
very quickly with: "So We Welcome the
opportunity to have a Court Set Trump
(<-Victim)
straight". And Trump's odd, wandering
response, reeked of That Birther "I got
stuff coming out!!". It is called A BLUFF
His words will be placed against reality
and will be Proven to be what they just
always Have been. Lies, lies, lies & lies
Now, barring some Amazing event this
Campaign Is Over. At No Point was the
Trumpster fire ever fit to hold an office
And it took this? This is really a pox on
America right Now And For Any Trump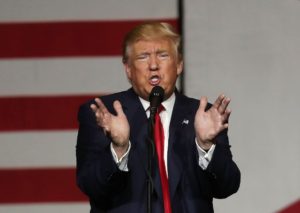 (<-Tiny Hands?)
voters I politely ask "So, This is what it
took for you to see he's unfit?". No you
are in big need of serious soul searchin'
Just don't Do Anything Stupid when he
Gets 'Disemboweled' On November 8th
You Troglodyte Racist idiots don't grasp
how Electoral Map Math Works, or take
the time to Understand Polling math or
reality itself. They Have A Blind rage, &
hopefully their Frustration Doesn't spill
(Stay cool!)
over. My Hopes are not Very high from
all the Countless Examples from rally's
NOTE: Backstreet Boys Mad At Trump
 Tellin Not 2 Play "I Want It That Way"
And So, He Just Played It Again Today
Oooooooooooooooooooops. He's Toast
NOTE II: We 'Could' Be Talking About
WikiLeaks From Clinton's E-mails and
They Don't Show Much Aside From An
Offerin' Of Her Wall Street Speeches &
The Primary. But Trump Can't Get Out
Of His Own Way His EGO Just Took It
Off The Cycle. Ha Ha Ha Ha Ha. Idiot!
UPDATE: Religious Fraud "Turd" Jerry
Falwell Jr. Still 'Supports' Trump Even
Though Allegations Are Likely True Oh
The Breathtaking Hypocrisy Of Creepy
Have a day!