By now you know about the trump tape
and how purely horrid it is. And the big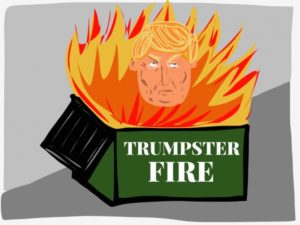 (Flame on!)
Question, THIS is What Put It Over the
top for Republicans?! And did they take
away their endorsement or vote?! Nope
They are all simply Glued to the Titanic
Pretending Like This Event Wasn't Even
coming is lunacy. The vile evil followers
of Drumpf have Always Been here. And,
will it change any current Trump voters
minds? Nope. Because they're pure shit
& unabashed Racist Hateful lying pricks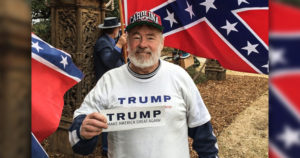 (<-Usual Supporter)
This did not happen by accident. This is
from Years, and Years and Years of hate
Within The Republican Party. They Own
This Trumpster Fire. Trump did Not just
pop up over night. It took rightwing Am
radio lies, Fox and ignoring facts/reality
daily in favor of lies, propaganda and bs
they pull directly From Their Asses. Now
reality is Colliding with Their Fake World
(Oooooops!)
and they don't know what to do. Their is
an Uncivil War that they Created. And it
is collapsing under their Fat Hateful feet
Right now, November 8th is Coming but
fast, for a Big Don Loss. My Prediction is
this ends the republican party on a large
national level. They are likely to lose the
senate and likely even lose the house. It
is because they have no Ideas or Policies
American Citizens on a whole like. Ooops
NOTE: Republican Joe Heck, Is The Only
Republican, Similar, To Mark Kirk Who'll
Not Be Voting Trump, This Election. And
"More" Will Be Coming Daily, Like Them
In Fact 61 Others Also Won't Vote Rump
NOTE II: Hillary's 'Wall Street' Speeches
'Weak Ass' Dodge And Was Just Comical
Have a day!