No one likes payin' taxes. We all do
it because we need shit like: Roads,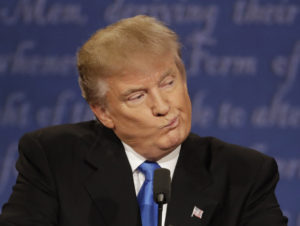 (Derp!)
Water, Electricity, Schools, Cops &
literally a Zillion other basic needs/
infrastructure. It appears right now
Drumpf has paid no federal income
taxes in over 20 years. Let 'It' sink
in For A "Moment". REALLY Sink in
Now, being over fair to Trumpy the
reality is, That He Still "Pays Taxes"
(That Is What The Far Right Claims
every time Poor People are Tax free
No they still all pay other big taxes)
When he gets Fuel for his Jet, or he
(Ha! Noooice)
buys things, in whichever state he's
in. There are state taxes on items &
all of Rational Society Knows it well
But, it doesn't Change The fact that
He Hasn't Paid 'Income Tax' In 20+
years. So as the Polls Widen now it
shows Working Class People Do not
like That Fact, Nor Do Most Citizens
(Many Trumpetters do not care and
never have and ignore reality/facts)
It doesn't mean anythin' unless this
country VOTES!!! And, now Trumps
(He reads?)
new tactic from Him/spokesthings?
Call him 'Smart' for going bankrupt
is the new tact. Ha ha ha ha. Fidots
Trump means Tax Returns Uncover
Many Problems. His Days Are Done
(And how did it get this close? Sad)
NOTE: This Fun Trump Supporter
Interview Is Very Telling. There's
Zero Substance And When 'Asked'
About Trumps 'Taxation Policy' He
Go's Into A Palin Word Salad Rant
That Makes No Sense, Whatsoever
Just Say, "I Do Not Fucking Know"
But He Can't. Why? Simple Hubris
No Matter 'Ignorance' Was Proven
And On "Video" Forever And Ever
NOTE II: The Bears Won A Game?
No Fucking Way!! Bear Down And
Turn It Around Let's Go Now Boys
Have a day!