The Republican nominee is a Bullshit
Artist, With spokes people who don't
("Trumps a BS Artist")
know Basic Facts. But Have Plenty of
Accusations about Obama being a big
reason for Iraq, not Earning His Spot
at Harvard, Or That A Clearly "Lifted"
speech wasn't stolen. This rolling shit
show is in big trouble Nationally, and
It Gets WORSE. Locally, & Regionally
"Things" are coming Apart quickly for
the TeaOP. Take Dallas where they're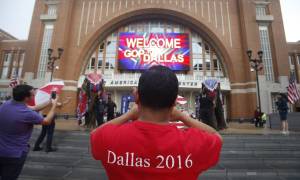 (Party's Over!)
dying after their chairman "Resigned"
After "Less" then 2 months on the job
When, Montgomery 'Took Over' Their
bank account was $30,000, but today
it's $180. So, they had to shutter their
doors. Ha ha ha ha ha!!! They have an
"Uncivil War" On Their Hands, as their
boat sinks. Not time to gloat, but steel
our gaze as A Nation to better days, &
(Boom!)
hope we Have Better Voter Selections
in a so very bright future. Whoo hooo
DNC "Damages"
It's not only a great Netflix show, it is
really Describing The DNC these days
(Cheater!)
As, the Entire Republican Party Slides
off a Cliff, the DNC Has It's Own large
"Clean up" Project Under Way. And it
better be Correct, or They will Simply
be in the 'Same sinking boat' as those
ended Republicans, in Two fast cycles
The DNC fired three highlevel officials
Tuesday as the organization works to
rebuild after Criticism it was "Playing"
(Amy Dacey, gone!)
favorites in the "presidential primary"
It was. And if they don't place in solid
honest fair people, in The 'Shadow' of
FDR, they will be in the "Exact" same
boat. This Serious Stuff. If they really
hire fair refs, this will be a Turnabout
win. If not, well…..you're on the clock
And If ANY Appear In Hillary's Picked
Cabinet, should she win. You're toast!
NOTE: So Wild, A MLB Ump Ejects A
Fan For Yelling "You suck!!!" Multiple
Times. Meh, Heckling Is Fine, Yelling
Constantly? Not So Much In My Book
NOTE II: Our Own Chicago Sky Super
Star Elena Delle Donne Has Come Out
Congrats To Her & Thanks For Ur Play
Have a day!