In the Democratic Town Hall last night
we saw things come to a "Crawl". So it
(<-Republican Lite)
was Hillary vs Bernie for the 7th billion
time. Hillary did the Worst non-answer
to a very real question about racism in
society. She took 3 minutes to just say
N-O-T-H-I-N-G. Her response was just
"Racism is bad, let's Enforce the law on
books today. And that is all you will Get
from me lady". Then, Hillary told Every
Bernie Voter, to Go Fuck Themselves in
every way. She will do 'Nothing' to Earn
our vote. Her response was "I'm winnin'
(<-Progressive)
so fuck off"; how'd that work for Charlie
Sheen again?!? And the Best Line of the
debate? Sanders: "So in the 90's I voted
against DOMA, NAFTA, & in 2003 against
The Iraq War". Boooooooooooooooooom!
Cruz & Kasich Sittin' In A Tree…
In what can only be called a "What The
Fuck?" moment, Cruz & Kasich are now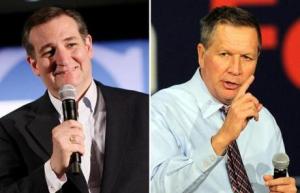 (Cat Fight!)
"partners". Is that legal? Well primaries
are like little Political Clubs that can set
their own rules from time to time. They
both feel the 2nd & 3rd Place Turds can
so Railroad the Current 1st place person
Its more of a sign of the times for these
"Utterly Dysfunctional Lying Sociopaths"
Their party is toast in National Elections
period. They Gerrymandered local one's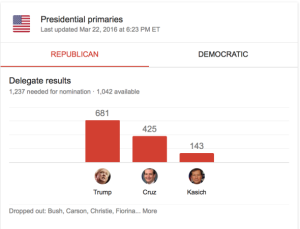 (Such goofiness)
so they will Still Have Assholes in Power
but in a national election you are seeing
the Choice: Lunatic lying bigot Theocrat
or Trump (who's three out of four of em)
BUZZ! Times up, pencils down. It is over
NOTE: "Primary Day" In DE & PA Today
So Remember To VOTE, VOTE, VOTE!!!!
Have a day!