It's about a New York state of mind
All eyes in the nation on NYC. They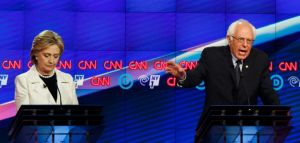 (Face Off)
had a debate on the 14th and so it
wasn't a Knock Out for Sanders. He
couldn't deliver that finishing move
He Actually "Stumbled" a few times
Hillary Is Alive. The Only Thing that
Beats Her Now Is VOTES. Pure And
simple votes. Right now, the polling
says Clinton is up by 12 points. The
ONLY thing that beats her in is voter
(Joy Buzzer?)
"Turn Out" TOMORROW in NYC like
Has Never Been Seen Before. If not,
Hillary is your nominee. So, let that
sink in. Like a necklace made o lead
NOTE: Turd Cruz Can't Answer The
Basic Facts About 'Unconstitutional'
'Discrimination' In 'Anti-LBGT Laws'
NOTE II: Blackhawks Lost At Home
Which Is Bad. They Better Get Their
Shit Together, Or That's It For 2016
Have a day!