Bill O'Really Had On Cotton Candy
bigot hair the other night; so what
(<-A Racist Off!)
did they discuss? Shit all racist do
Stuff like: "Why do "Those Blacks"
all have forehead tattoos" (Record
scratch) Come again? Yes, you did
Read that correctly. Forget that IF
you Type in Forehead Tattoo's in a
search you get "white people" with
them by a count of 12 to 1. Racists
don't need Facts or Reality. If they
(No, you won't)
did, they wouldn't still be "Racists"
Was it done there?!?! Nope. "Let's
talk about The Minorities" was the
lead in. Ohhh boy this will go over
like A Lead Balloon. "What is your
strategy to get the minority votes"
"I don't think that they dislike me,
we're Doing Excellent with African
Americans, & Hispanics". Ahhh, no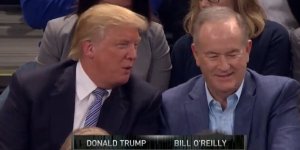 (2 Man Klan)
he is not at all. In fact, they HATE
him. Then Bill Decides to Say this:
"But how are you going to get jobs
for em (The blacks) when many of
them are ill-educated & have these
tattoos on their Forehead. I hate to
be generalized about it but it's true"
At least These Racist Fucks Aren't
Hiding it anymore. It's like a bigot
Douche Off. How can they spew so
much bullshit from their ass while
sitting on it?!? Shouldn't it be very
muffled? FOX is racist. That is just
(<-Bigot Boys)
a fact. Rodger Ailes was best buds
With 'Racists' Nixon & Ehrlichman
Their Time's over, they are TOAST
NOTE: CNN 'Gives' Trump Family
A Blow Job, On National TV. How
Badly Disgusting & Unjournalistic
NOTE II: LA Governor Signs This
Awesome Non-Discrimination Bill
Have a day!