The right wing bigot bus is running out of
gas, and fast. Sure now their hate will get
(Tick tock!)
louder. But then, fade away into that Dark
Distance. Pat Robertson is 'upset' he can't
"Discriminate" Any More, Without Serious
Consequences. It is simply an old, lying &
dying "bigot" at the end of his long hateful
road. Tick tock buddy. They're upset cause
they think losing the ability to deny others
rights, is now somehow wrong. No, it's not
a right to Discriminate/Deny others Rights
Mike Fuckabee is now in On It as well with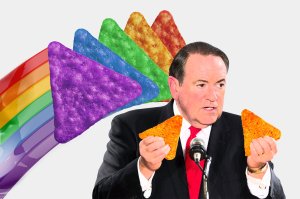 ("But…evil!")
trying to boycott Rainbow Dorito's. HA HA
Good luck with that! Why not Try Banning
porn, fastfood, & booze loser?!? And would
you Expect anything less than Hypocrisy?!
FUCK NO!! He called the economic boycott
Against Chick-fil-A "Economic Terrorism"!
He's a child with no Principals. Perhaps he
thinks the campaign to stop bullying might
hurt em. Since he n his bigoted bitches are
(Nope, fuck off!)
really just Big Bad Bloviating Banal Bullies
NOTE: Oregon Shooter Was A Self Described
Conservative Republican, Conspiracy Theory
Lover & BIG Irish IRA (Republican Army) Fan
Have a day!