Actress Ellen Page just called out Ted Cruz
And Cruz had Nothing Valid to say. He just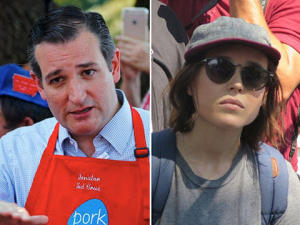 ("Lying prick!")
Tap Danced because his Racist, ignorant, &
hateful views were shown. She asked him a
Simple, Honest, Straight Forward, Question:
"I have a question about LBGT people being
"Fired", for just strictly being Gay or Trans"
Did Turd answer the question? Nope. Cause
his answer's "Good fuck them. I want to use
my religion to discriminate!". That won't cut
it as a Sound Bite. Ellen let him off the Hook
With Republicans and assholes like Cruz you
must Stay Focused and really probe for their
("Answer the ?")
answer. Sadly, she didn't. Then he ignored it
all trying to shift the blame to Obama & Iran
The reason?!?!?! He simply can't address the
Original Question, because his answer's very
disgusting. When he brings up that ISIS, and
Iran all abuse Gay folks, he doesn't remotely
understand those Theocrats, share HIS views
They Are RIGHT WING, Not LEFT. They have
everything in common with the religious right
NOTE: 'Crooked Cop' Threatens Motorists They
Must Buy Fundraiser Tickets, Or Lose Their Car
Have a day!