Who is on top in the GOP primary race?!?!?!?!
The Mop, the Turd, the Mouth, the Liar, & the
("It's empty!")
Bigoty Boy, Trump. That tells you all you need
to know about the entire TeaOP today. They're
loud, content free, Ex-Reality show star, Lying
messes, Incapable of Discussing serious issues
Trying to Have a "Policy Discussion", with any
Republican today is both futile and impossible
THAT is why they are in deep shit. And all of it
will be on full display for every citizen to all see
on August 6th. So mark that down on your iCal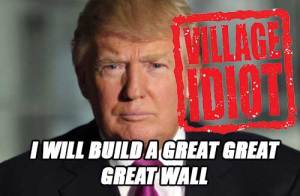 (Yes, we know)
These Debates will be comedy, mixed with hate
and racism while adding much needed massive
hypocrisy to boot. These Empty Suits will all be
exposed as the Corrupt Lying Con-men they are
NOTE: Still Waiting On Valid Proof From The
Death Of Sandra Bland. And Get This The Cop
Shop Has a "Terrible Racial History" Of HATE
Have a day!