The Mayor of a small city in Washington just
called Michelle Obama "Gorilla face" & called
(Mr. Douchebag)
Barack "Monkey Man". My, how Charming he
thinks he is "people". And his name is Patrick
Rushing. Now he's "Rushing" to pretend he is
Not Racist. He said, "If I do Resign, that's just
admitting I'm racist, and I'm not". You do not
get to "decide" that fuckhole. If you did, guess
what?!?!?! No racists are racist. See, they said
they weren't, so we're all good right?!? That is
not how this works. When you "say" racist shit
that makes you Racist. If ya say, act, or abuse
(Airhead Heights?!?)
others for race, YOU-ARE-RACIST. Period!!!!!!
Do not Pass Go, do not collect $200. And now
the kicker, Patrick claims, to be follower of the
Jesus Christ. Boom!!! Right on que. Claim he's
religious, and then Say/Do horribly Racist shit
Not "Heritage" Or "Southern Pride"
It is Bigotry, Ignorance, and White Supremacy
It is specifically about a Heritage or a Southern
(Racist assholes)
Pride….to own other Human Beings, Under the
concept that that their race is just inferior to us
'whites'. When the KKK takes up your flag fight
mantle you're tied to them period. They see the
same shit as the "Heritage" crowd. Always just
remember this: racism, & ignorance aren't ever
mutually exclusive. They are almost always just
together with 1 leading the other. Hint: It is the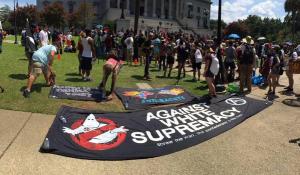 (That's funny!)
"Ignorance" Lewbowski. They don't even know
any "Black people" so they go tribal SO quickly
It's taught to them & rather than intelligentally
question such ignorant hate, they go along with
it. THAT's the terribly sad part right there 2 me
NOTE: Sandra Bland Died While In "Custody"
NOTE II: Irony Alert. One, Of The Hateful Ass
KKK Assholes Needed Help From A Black Cop
Have a day!