In Waco Texas, bikers gathered in Twin Peaks
And the worst shootout and deaths local police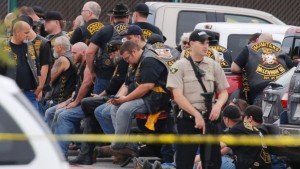 (Dipshit Patrol!)
have ever seen: 9 people died, 192 people were
arrested, 18 injured, & 100 weapons recovered
One of the police had this gem to openly state:
"In my nearly 35 years of law enforcement experience, this is
the most violent, and gruesome scene that I have dealt with."
Three rival biker gangs got together, & shot up
the entire town. Now, did you hear; "These are
violent thugs"? Nope. How about "These racial
evil rioting thugs"? Nope. What about "This is
the problem with 'White Gang Culture', where
are their parents?!?!". NOPE. How about FOX
(How ignorant)
covering this the same way with the exact tone
of Baltimore & peaceful protesters in Ferguson
If hateful racist fuckers want to play this game
So happy to oblige. Shouldn't White On White
crime be a huge concern? Seems 83% of White
victims in 2011 were murdered by other whites
according to FBI statistics. Where is the HUGE
outrage?!? When it comes to gang violence, we
White People lead that group as well, at 53.3%
But where is the outrage? *Crickets* So forget
we also lead all groups for Aggravated Assault,
Larceny-Theft, Arson, Weapons-Carrying, and
(So long to those)
Vandalism. Maybe it's the TV shows we watch
or the sports we play. You know "our" culture
and how "We Whitey's" all are?!? Here IS the
main hateful hypocrisy. When 'Black People'
do X, they're "thugs", & media/every bigoted
asshole generalizes: "That's just how they all
are, you know". Yet when us white folks do X
and WAY worse, we are just a few bad apples
Pure Hateful Evil
London Kiki Chanel, a 21-year-old transgender
woman, was found "stabbed to death" in North
(So sad, RIP)
Philadelphia early Monday. Raheam Felton, 31,
"Confessed to the Murder" and he's in custody
This is the "8th" transgender person killed this
year. This is unacceptable in our society. It will
not continue. If you are "Trans", be Very Wary
with social media, meet up, and 'always' check
your 'Sixes' when out Anytime. Sorry, but your
'safety' is more important than 'comfort'. Soon
(Face of hate)
you won't have to worry, and Change is Really
happening. Sadly, not Fast Enough with Solid
legal protections under the law. This must and
will change. Today, do something about it and
stand up for your fellow citizens who need you
NOTE: But Republican Conservatives Aren't
Racist. They ALL Just Hate Obama Because
Have a day!