Eric Holder is "stepping down" from his job as Attorney
General. He already stated he would by the end of 2014
(Work to still do)
so this wasn't news. But until they pick a 'successor', he
will still be our AG. This, angers white racists. Just look
at the internet hiding behind their hoods. So republican
racists hated him, which means, he was seeking, "Equal
Protection" under the law for all. We will get there, step
by step brick by brick. So those who seek to discriminate
will be a footnote in history, as the evil, tiniest, nothings!
Remember the Ferguson cop who pushed Don Lemon?!?
Dan Page is an oath keeper prospouse abuse mega racist
He was a FUCKING COP. These are NOT isolated events
There are way more racist 'crooked racist cops' out there
today like him. Sadly the post below seems to reenforce it
After 35 fuckin' years no one ever heard his views?? Nope
not buying it. He just 'verbalized' it, so they cut him loose
Evil Insane Cop
Kid is pulled over by a cop, for a "seat belt violation" at a
gas station. He was told, to step out of his truck. The cop
("I'm violent crazy")
then asked for the kid to get his license. At this moment,
the kid leans into his truck cab to get the license, and the
cop opened fire. The kid was struck on the hip as the cop
continues to FIRE. Cop was a shitty shot, &, the kid is on
the ground asking, "Why did you shoot me? I was getting
my license!". IF, the cop was a better shot, he'd be DEAD
The kid did everything he was asked. Now if there was no
dash camera, the cop says "He lunged right at me" or "He
went for my gun!". The point is this: A white women goes
into her car, to get her license, nothing. If ME, 'maybe' he
scolds me to stop, but doesn't open fire. The problem here
is "institutional racism". A black citizen who is doing what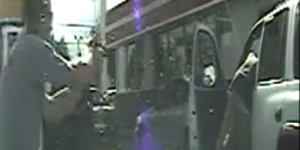 (INSANE)
you asked of him, is now seen as "he's getting a weapon to
kill me". THAT'S the problem. Shoot first, even when it is
not a threat. The cop, has since been fired, was arrested &
is awaiting jail time. But, I am getting sick of seeing all this
Properly train our law enforcement & weed out the nutters
Have a day!