The modern Republican party today has no valid policy to
offer 90% of Americans. In fact they will avoid "policy" so
(Holy Fuck!!!)
much, you get batshitcrazy stuff like: "Obama saluted with
a Latte in his hand" *Cue fake outrage* What they are ALL
saying is "We hate you because you're fucking black". Even
Clinton was abused by GOP'ers a lot, but "nothing" like this
Obama saluted the two Marines, who always salute, but he
had coffee in his hand. OMG IT'S A FOX FREAK OUT!!!!!!!!!!
Forget the salute was not used by presidents before Reagan
That means, Dwight didn't do it, JFK, etc. It is not required
And, surely there isn't some picture to show W. Bush doing
something equally odd or worse. Ooooops, doing it w/a dog
(OMG!!!)
But that is not the point here. It honestly, never was to them
Their ignorance & blatant hypocrisy are used as a 'distraction'
The point is, "politically", in a two party system, one party is
offering horrid policies against 90% of voters, & intentionally
avoiding THAT discussion & pivoting to "Can you believe X?!?"
Don't take the bait. Push em on what they are doing for the
VA, nothing. Stop launching pre-emptive costly endless wars,
nope. Helpin' those with PTSD adapt or adjust to civilian life,
nothing. How about Republican's cutting VA funding, check!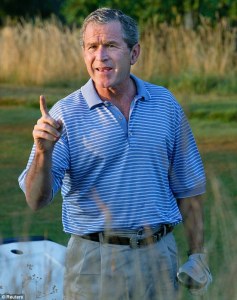 ("Watch this drive!")
How about a new GI Bill so soldiers can gain education, nope
They blocked that. How about returning vets on food stamps,
Republicans politically tryin to cut those. They DO, not, CARE
about the troops. They care about an off salute cause if we go
down the list of GOP mistakes, ignorance, & failures. Oooops!
Note: FOX's pretty girls Rove & Sean made it about race here
SO "Basketball trash-talkin' isn't a dog whistle?! *Rolls Eyes*
Note II: Monday post, Eric Holder Stepping Down/Resigning
Have a day!