Cee Lo Green has a lot less "Green" now a days
After he pleaded no contest to 'slipping' ecstasy
("You're next!")
to a woman in 2012. So that was bad, but it gets
worse. Lil' Jackass decided to go onto Twitter &
say some of the dumbest, stupidly vile shit ever:
"When someone brakes on a home there is broken glass,
Where is your plausible proof anyone was raped?"
Oh you'd think Mega Mental Midget is done, no
"Women who have really been raped REMEMBER!!!"
Wow, I quote his song here: "Fuck You!", and ah
"Fuck Off Too!!". What a sad, tiny, fat, little man
Now he lost a TBS show, & is doing the usual BS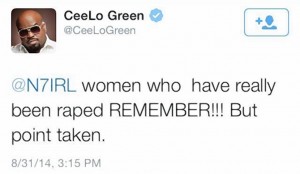 (Oh shit)
back peddle "I am soooooo sorry forgive me" lies
It seems Twitter should have a "I am Saying Such
Hatefully Stupid Shit Now So Don't Post" feature
That would of saved a lot of fucking asshole turds
Tomorrow: But, Republican's aren't racist right?!
Have a day!